Utilities
Quick and effective AVL, no matter your situation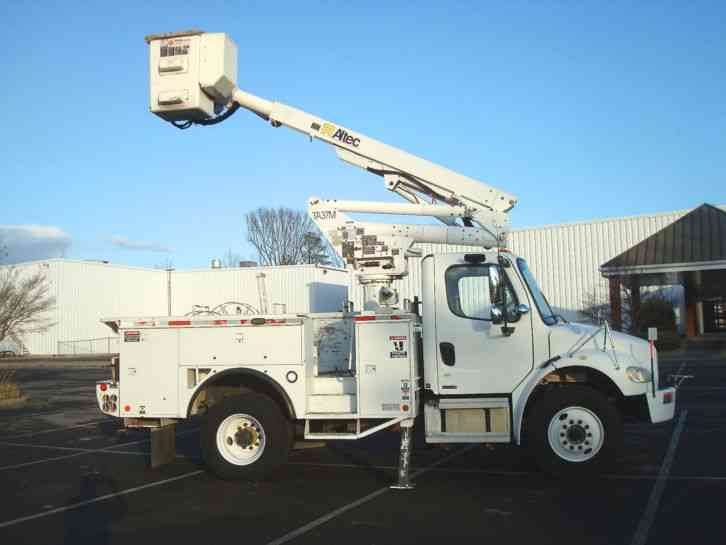 TruFleet™ for Utilities makes it easy to keep track of your organization's vehicles, keep management informed, audit performance and keep your workforce safe. TALLYMATICS TruFleet AVL solution uniquely ties into LMR/DMR/P25 networks AND cellular networks, and easily expands to "instrument" vehicles by offering communication with vehicle Engine Computing Units, application specific equipment such as generators, power-take- offs or buckets etc., and tracking high value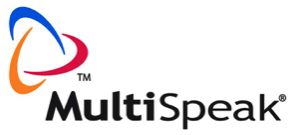 assets, e.g. generators. TruFleet's MultiSpeak API allows you to integrate vehicle and radio location information with 3rd Party Outage Management Systems (OMS). See how our utility customers have benefited from deploying our solution:
Features and Benefits for Fleet Managers
Higher Resolution, lower cost AVL Tracking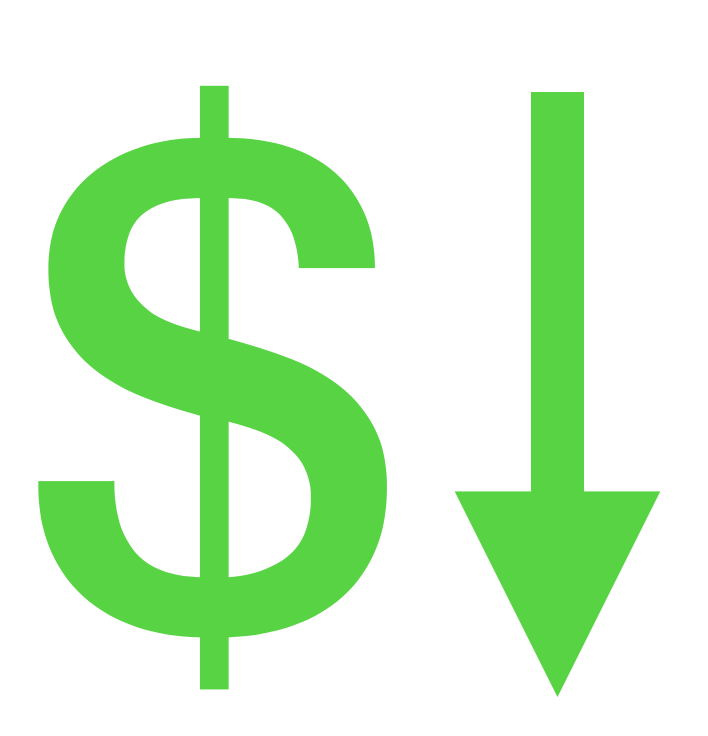 Enable simple, precise tracking and monitoring of activity, speed, maintenance, mileage and more and at all times. No matter what network you use, LMR or LTE-M, TALLYMATICS lowers bandwidth requirements while delivering higher, audit friendly resolution using our patented Contrails compression algorithm. Contrails delivers 12x the geo-tracking resolution compared to uncompressed solutions
Cloud Based or Local Server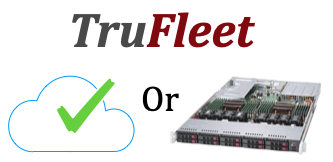 "The cloud" is a very popular method for deploying applications, and rightfully so. TALLYMATICS is also taking full advantage of the cloud by developing our TruFleet AVL solution as a full Software as a Service application. But TruFleet is also available as an on-premise, server-based solution for organizations that need to have a local solution.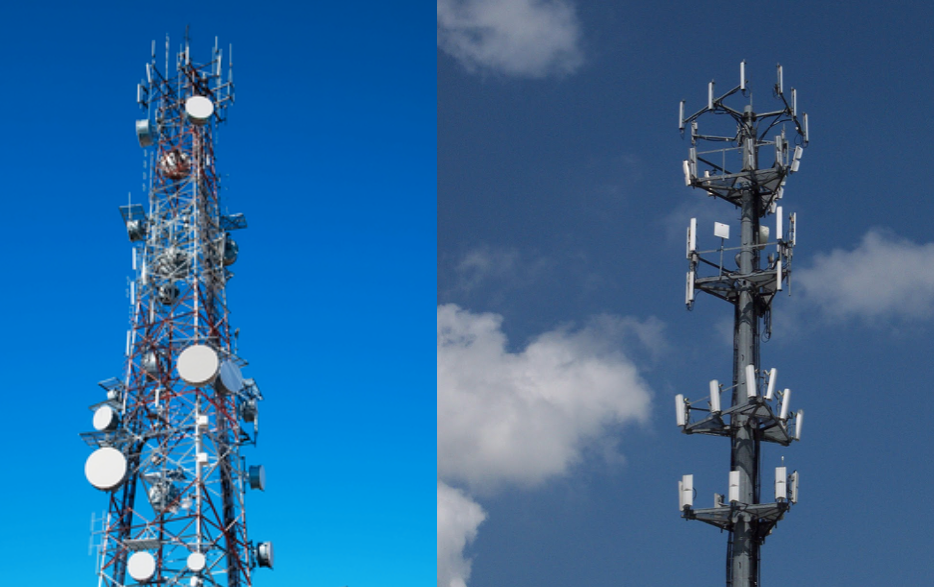 It's not just about what you prefer, its a matter of what you have. You may have a good LMR network, but coverage might not be complete across an entire jurisdiction and cellular is. Conversely, you may not have good cellular coverage, therefore you HAVE to deploy LMR. We work with both scenarios, and indeed you can have LMR based devices and cellular devices reporting to TruFleet simultaneously, therefore ensuring that no vehicle is compromised anywhere in your footprint. The best part is that local two-radio dealers are well equipped to manage both types of network solution, and therefore make great partners!
Multi-Device Flexibility – Telematics, Two-way radio and Push To Talk over Cellular (POC)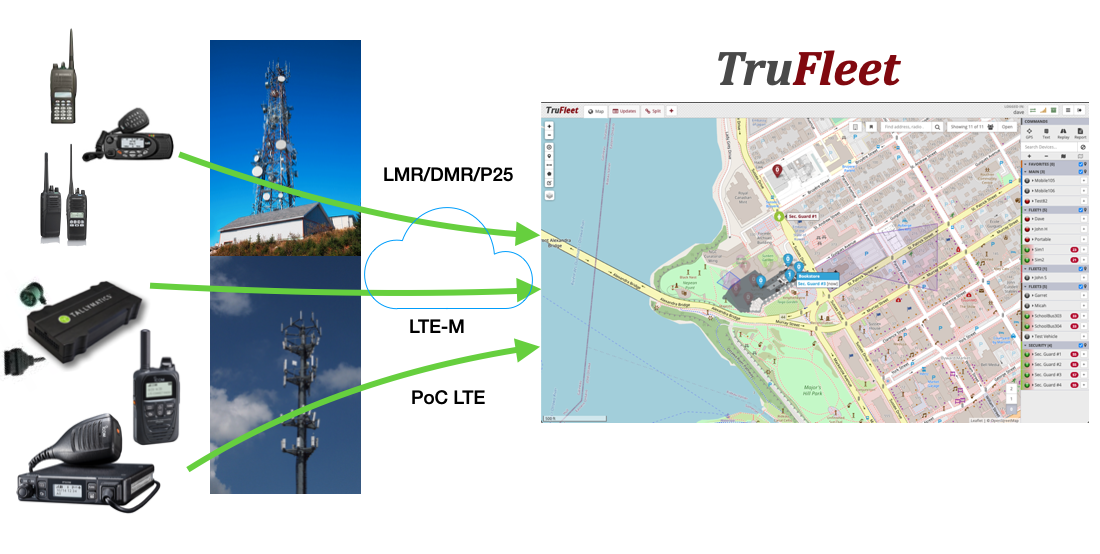 Having a mobile work force in critical situations means you probably want to keep track of more than just the vehicle, you want to track the person as well. In many situations, the two can be separated and you want to know where they both are! TALLYMATICS provides vehicle tracking with its Sprite TW400 LTE-M tracking device and radio tracking (2-Way Radio or PoC) under the same TruFleet AVL application. TruFleet can also perform indoor radio tracking for radios equipped with iBeacon capability.
---
KCP&L: A Case Study in tracking Radios and Safety. Network and device independence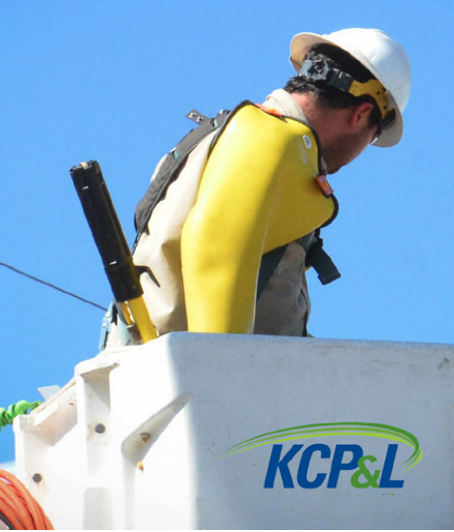 The Company: KCP&L is a utility company based in Kansas City, Missouri, servicing 850,000 customers in an 18,000 square mile area.
The Need: Needing a dependable radio network in storm situations where different regions are brought together, KCP&L wanted to ensure their staff are continuously connected, even in areas without cellphone coverage.
The Solution: Tait installed a 23-site DMR Tier 3 trunked network to provide coverage throughout the territory. All 1200 radios were equipped with Man Down, Lone Worker and tracked with TALLYMATICS' TruFleet solution, allowing dispatchers to locate employees, no matter their location. Maintaining a continuous flow of information between field technicians and dispatchers has resulted in better repair and restoration times.
The Best AVL Interface, Reports and Notifications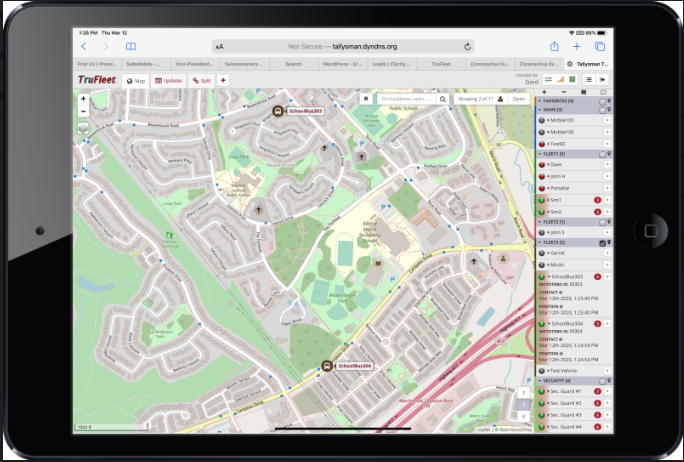 Tallymatics has designed TruFleet with simplicity and ease of use in mind. TruFleet has the best User Interface, focusing on getting the job done as quickly as possible. On top of that, TruFleet comes with a library of appropriate reports that facilitate analysis, from scheduling maintenance to monitoring "Trips, Stops and Idles". Multiple events and event combinations trigger alarms and notifications to management.
Rapid Deployment
There are a lot of solutions out there, and they can be quite "heavy "and complex (which often adds to the cost) albeit with many useful bells and whistles. The downside is the effort it takes to roll out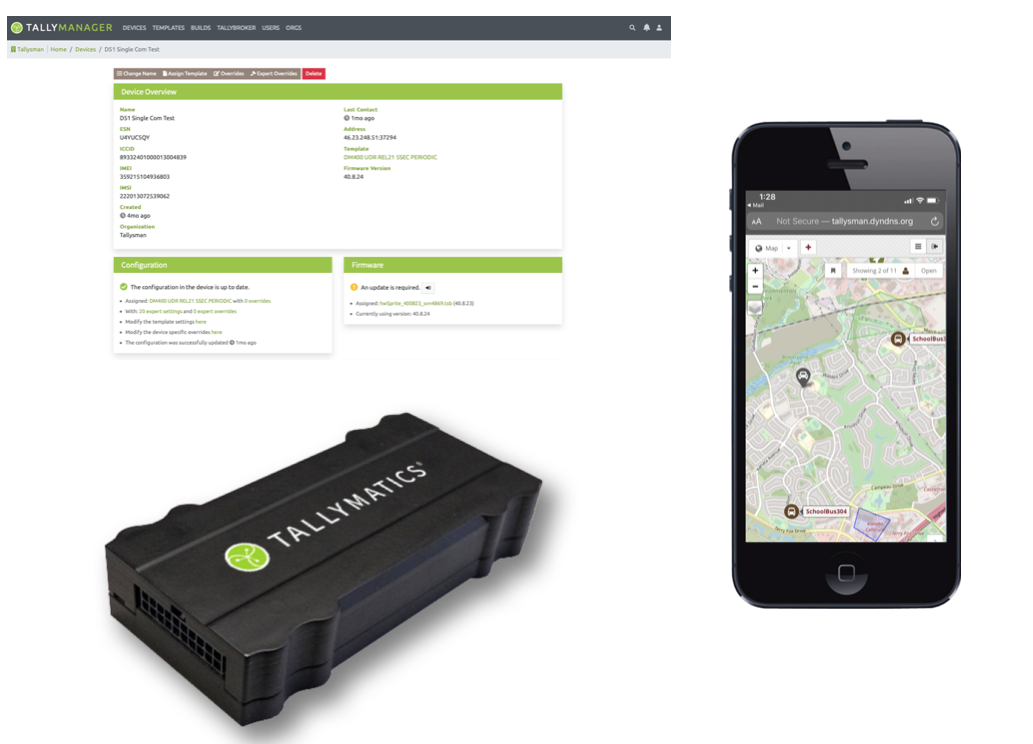 such a solution. The entry level Tallymatics solution is easy to get up and running, including extending functionality to providing managers with the most essential information they need: "Where are my assets?"; "How much cable have we laid on that line?"; "Are my employees driving safely?"; .

Tallymatics' in-vehicle devices are easy to install and manage. TW400's can be activated and managed remotely via the cloud-based TallyManager, and the capability of the TW400's built-in GNSS antenna and LTE-M transceivers make it particularly tolerant to installation placement. Vehicle connection and power is as simple as plugging into the On Board Diagnostic port.
Keep track of Vehicle Events with Digital Inputs (TW400, TW200, TW5344, TW5744)
Sprite TW400 has 4 digital inputs, programmable active high or low, allowing remote tracking and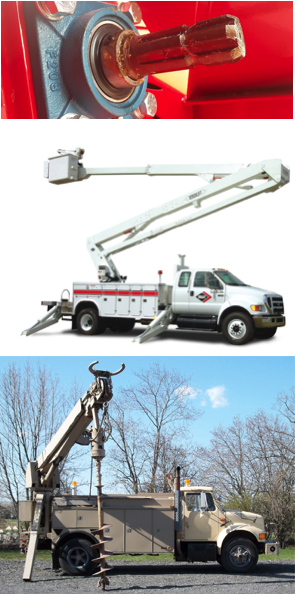 observation of the state of vehicle equipment such as:
Power Take Off on/off
bucket lift fixed/in use
augur on/off
The state of a particular input can be tracked on the TruFleet Route Replay, showing the state changes throughout the trip. Reports for each input for each vehicle can also be created and viewed. There are input restrictions, therefore it is necessary to decide which types of status update is more important.




---
3 Outputs for notification in the Vehicle (TW400)
Sprite TW400 has 3 digital outputs that can be used to sound piezo-electric buzzers, turn on warning lights or any other mechanism for alerting vehicle operators for situations such as:
Poor Driving Behavior
Failure to present driver ID
Dangerous road conditions ahead
Safety is a major consideration when your employees are mixing in public, performing hazardous tasks and driving large and heavy vehicles. If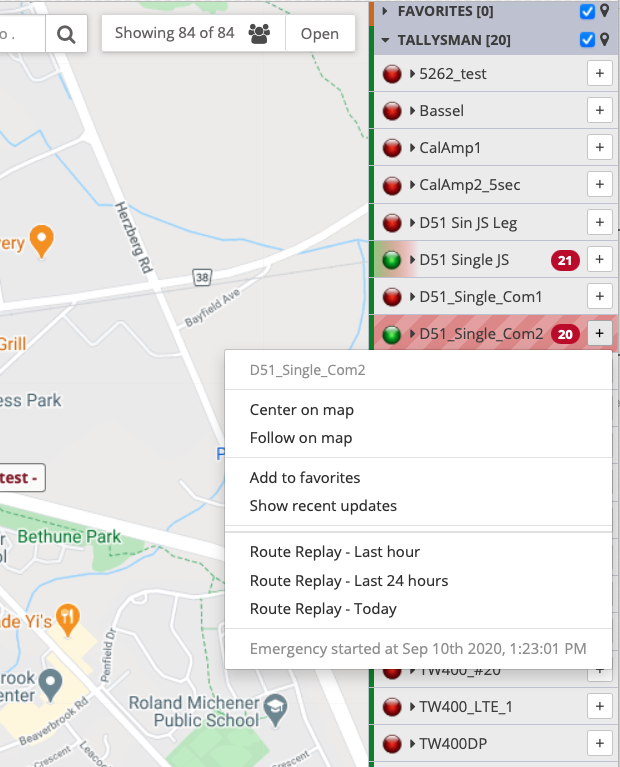 there is a problem, there are multiple ways in which a driver can alert management to a problem. But there should ALWAYS be a tried and true method to notify management … right on the system being used to track the vehicle day in and out. Key requirements are:
Rapid, distinct notification
Accurate, persistent location information
An error resistant mechanism
With TALLYMATICS emergency feature, when an emergency is triggered (with a programmable depression debounce), the TW400/200 will send an Emergency event notification to TruFleet and enter an emergency state. While in an emergency state the TW400/200 ignores the ignition signal and remains continuously active and report location updates until the emergency state has been cleared by an authorized user.

The Emergency status is presented to the fleet operator visually within TruFleet using event notification pop-ups and a color change of the vehicle ID bar in the vehicle list. When configured, email notifications will be sent indicating the emergency event.
On Board Diagnostics – Keep the fleet running (TW400)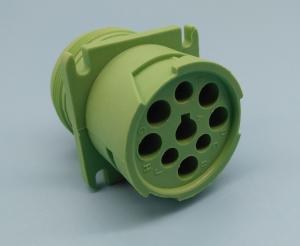 You've got light duty and heavy duty vehicles. You need to know when there is a problem so you can take proactive measures to ensure an issue does not escalate into something worse. You also want to keep a watchful eye on the maintenance schedules of your vehicles … and you don't want to depend on your vehicle drivers to inform you when the Malfunction Indicator Lamp comes on. TALLYMATICS Sprite TW400 connects to the bus On Board Diagnostic port, J1979 light duty OR J1939 heavy duty, to give you important information about a MIL coming on, Diagnostic Trouble Codes that result from the MIL and parameters such as engine hours of operation, fuel levels etc.
Capability Expansion – Third Party Integrations and more…
TALLYMATICS TruFleet Public Works solution enables a rapid launch of a fleet wide tracking service with the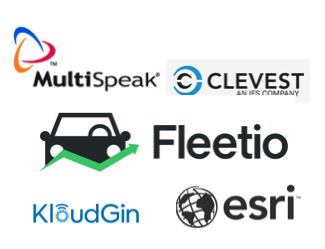 minimal configuration: Straight AVL, Driver ID, Driver Behaviour, Emergency Button, equipment monitoring and OBD. But you may want more. For example, you may want to interface to a new software package that has bought for fleet maintenance and driver management. No problem. Even better, TALLYMATICS has already developed a MultiSpeak compatible API to integrate with 3rd Party Outage Management Systems (OMS). The Tallymatics AVL platform is designed to be added to: in the vehicle with hardware such as RFID readers, and in the cloud via the TallyBroker Application Programming Interface (API), which makes information available to other software applications in an industry standard manner. You can move forward without waiting and be comfortable that there is a path forward for future capability you may want to add. And confidentially …. we have a lot of plans for the future!