Fall 2021 Newsletter
Subscribe to our monthly newsletter (or unsubscribe)
Welcome to the Fall 2021 edition of the TALLYMATICS Newsletter. Our newsletter is designed to keep our partners updated on our latest developments, as well as industry news.
In This Issue
TruFleet Cloud is HERE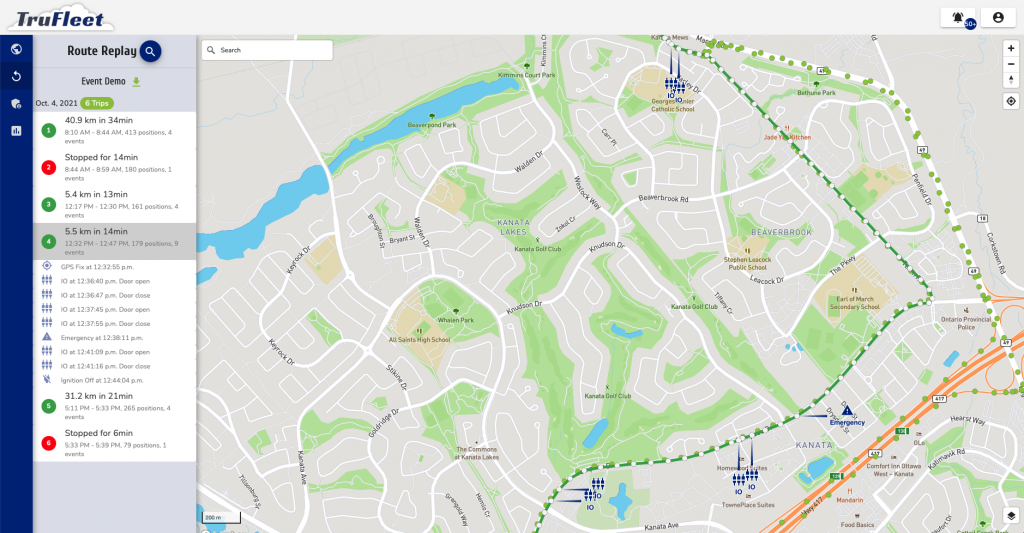 TALLYMATICS have been hard at work developing a new version of our TruFleet software platform that is a true "multi-tenant" Software as a Service (SaaS) offering. The goal has been to:
make it more economical for smaller fleets;
make it easier for end-users and dealers to manage devices and user accounts;
make it more flexible in managing multiple fleets and sub-fleets; and
to give us a platform for rapidly delivering new functionality such as:

TruAsset Mobile Asset Tracking (See below),
OBD/J1939,
Driver ID,
Ridership,
Fuel Consumption tracking,
Driver behaviour
TruFleet Cloud is now out, and it is ready to use right now for our cellular LTE-M customers. We will be working on integrating our traditional radio networks into it by the end of the 2021. There are lots of enhancements in the User Interface, from reports, to searches. Please give us a call for a demo and a discussion.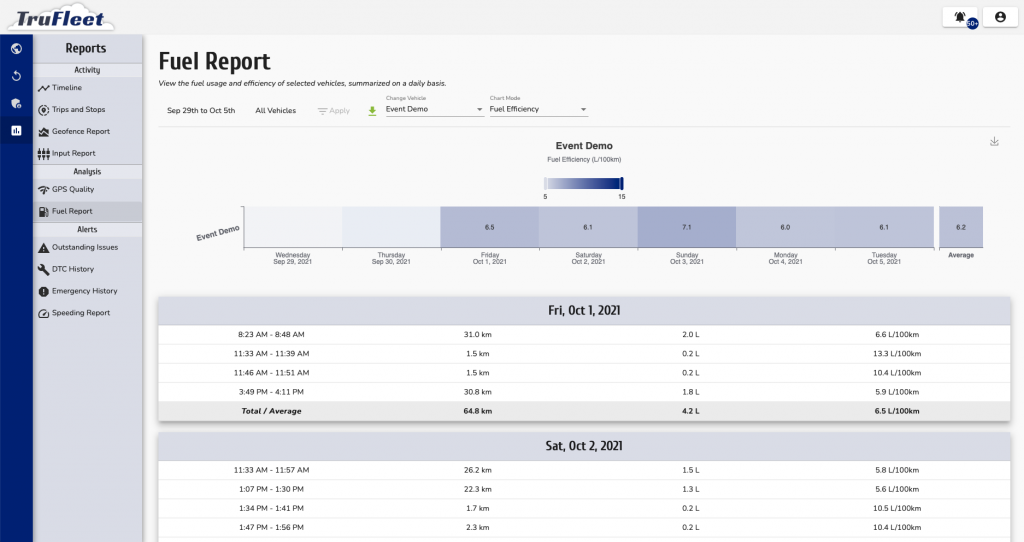 TruAsset: In-Vehicle Mobile Asset Tracking for Work Fleets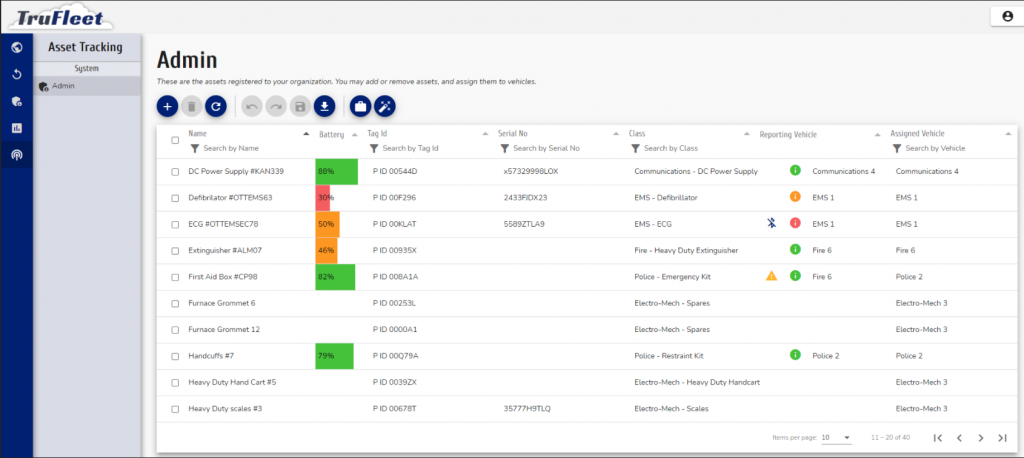 For any work fleet, Automatic Vehicle Location has traditionally been specifically about location of vehicles and drivers (for TruFleet, that extends to radios as well), after all it is important to understand that the work force is at the right place at the right time. However, for many mobile work teams there is an equally critical dimension to accomplishing a mission properly, beyond just getting on-site; that is having the right equipment and supplies to accomplish the task at hand.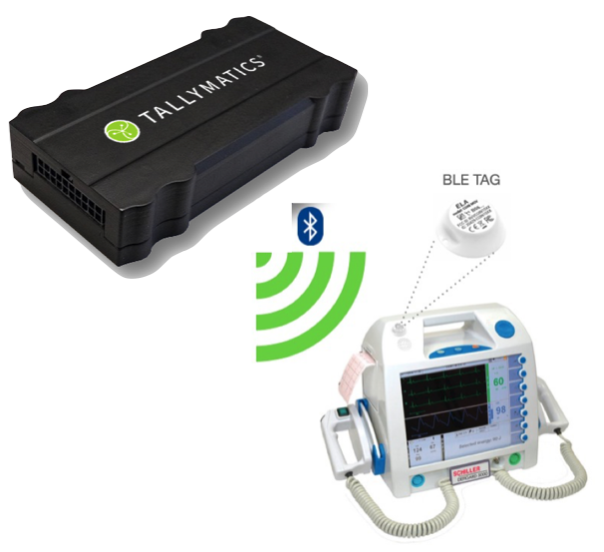 The TW400 is a great telematics product, but it is more than that; it is an IoT Gateway, and as such we have added a Bluetooth Low Energy (BLE) transceiver to it (TW5470) to sense BLE tags affixed to important equipment and containers/lockers of supplies that a work vehicle will need. This enables the TW400 to detect if an assigned "payload" is onboard or not, and when and where it came onboard or was removed/lost.
This detection capability needs software to back it up, so we have added the TruAsset Mobile Asset Tracking package to TruFleet Cloud, which enables organizations to:
Create a database of mobile assets, in-App or via CSV import
Organize the assets by different classes such as First Aid equipment or Diagnostic equipment
Assign assets to specific vehicles in a manifest
Search for assets, or classes of assets
Be notified when and where assets go missing, or are found in the wrong vehicle or fixed location (depot, warehouse, emergency area equipped with a stationary TW400)
This new capability dramatically increases the value of telematics for your customers, as it proactively addresses a hidden cause of mission failure by exposing it in a timely fashion, not when its too late.
We are looking to engage with fleet customers to talk about the use cases and customization for various specific verticals, such as:
Utilities
Emergency Medical Services
Police/Security
Commercial fleets
Municipal Fleets
Fire
Road Maintenance
Let's get together and start exploring how TruAsset and TruFleet Cloud can unlock a new horizon of opportunities!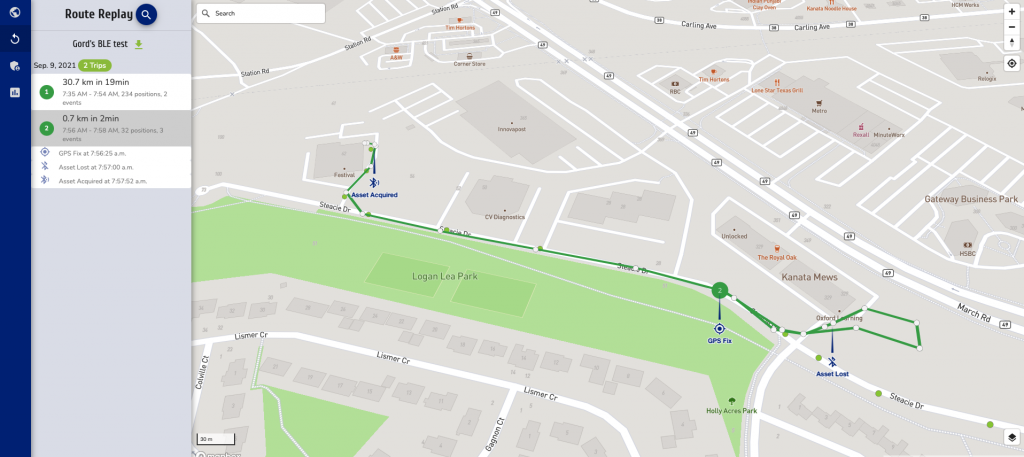 Full Telematics over LMR networks
TruFleet Cloud and TruAsset Mobile Asset Tracking are bringing exciting new offerings to the TALLYMATICS product line up, but the TW400 is an LTE-M cellular product, and traditionally our business has been in geo-tracking applications over LMR networks. With our TW2XX and TW5x44 product, we increased the tracking resolution (more points), added out of range data storage (persistence), added some I/O for monitoring vehicle inputs such as door open/close and eliminated missing points by using our Sprite protocol to help manage any potential bandwidth conflicts on the radio network.
Radio partners, pay attention. We are not abandoning our traditional market. We will continue this tradition of value added capability for LMR networks by developing the capability to tether the TW400 to the radio (like our TW2XX and TW5x44) and add the functionality of the TW400 and TruFleet Cloud (OBD/J1939, Driver Behaviour, more I/O, TruAsset Mobile Asset Tracking and more) to your LMR networks (AND Push to Talk over Cellular (PoC) devices). This will help you achieve parity with cellular in this important application space for mobile workforces and offer your customers more value on your LMR network.
John Seymour has retired!!!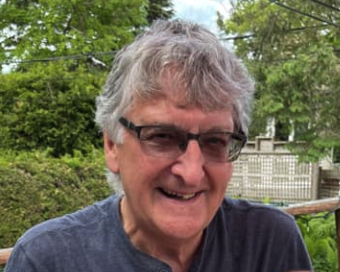 Yes, you read that correctly. John Seymour, a co-founder of Tallysman Wireless and TALLYMATICS has decided to spend more time with his family, after a long career in the industry and many valuable contributions to our company. He will be greatly missed! If you would like to contact John and congratulate him, just send an inquiry to Gord Echlin via gordon.echlin@tallysman.com.