September 2020 Newsletter
Subscribe to our monthly newsletter (or unsubscribe)
Welcome to the September 2020 edition of the TALLYMATICS Newsletter. Our newsletter is designed to keep our partners updated on our latest developments, as well as industry news.
In This Issue
TruFleet/Sprite TW400 Emergency Feature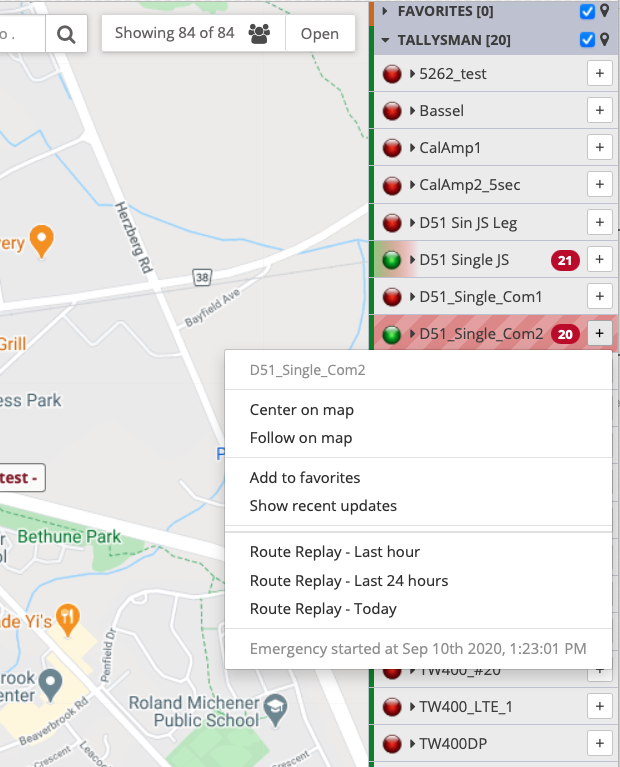 One of the KEY requirements of managing any fleet is to be able to be rapidly notified and respond to an emergency situation. To do so, you need several elements:
You need a rapid, distinct notification.
You need accurate, persistent, location information
You need an error resistant mechanism
Tallymatics has added an enhanced Emergency feature to its TruFleet Cellular AVL application to address this need while satisfying the characteristics listed above.
When an emergency is triggered (with a programmable depression debounce), the TW400 will send an Emergency event notification to TruFleet and enter an emergency state. While in an emergency state the TW400 ignores the ignition signal and remains continuously active and report location updates until the emergency state has been cleared by an authorized user.
The Emergency status is presented to the fleet operator visually within TruFleet using event notification pop-ups and a color change of the vehicle ID bar in the vehicle list. When configured, email notifications will be sent indicating the emergency event.
For more information on Dealer reseller opportunities
Professional Grade GPS Antennas

Tallymatics offers a range of GPS antenna for use in professional grade applications such as tracking/positioning, precision timing, network synchronization etc.
The antennas feature high performance custom tuned ceramic patch element, 15 KV ESD circuit protection, a high gain two-stage low noise amplifier (LNA) with a mid-section high rejection SAW filter.
The GNSS antennas are available as magnetic and fixed mount options and are offered with a choice of cable connectors.
Applications
• Mining & Construction
• Law Enforcement & Public Safety
• Fleet Management & Asset Tracking
• Covert surveillance
Why not generate a recurring revenue stream?
TALLYMATICS is looking for 2-Way Radio Dealers to partner with to offer GPS tracking over Cellular radio using TALLYMATICS' TruFleet AVL Cloud Service.
Integrate with existing TruFleet GPS system you may be operating
Free up 2-Way radio system bandwidth by moving heavy data users to TruFleet-Cellular
GPS Tracking over Cellular radio

Cost Effective for Small Fleets
Cloud Hosted solution
Web Browser based
No Contracts
International GPS tracking
Unlimited monthly usage
Certified GPS Carrier Partners